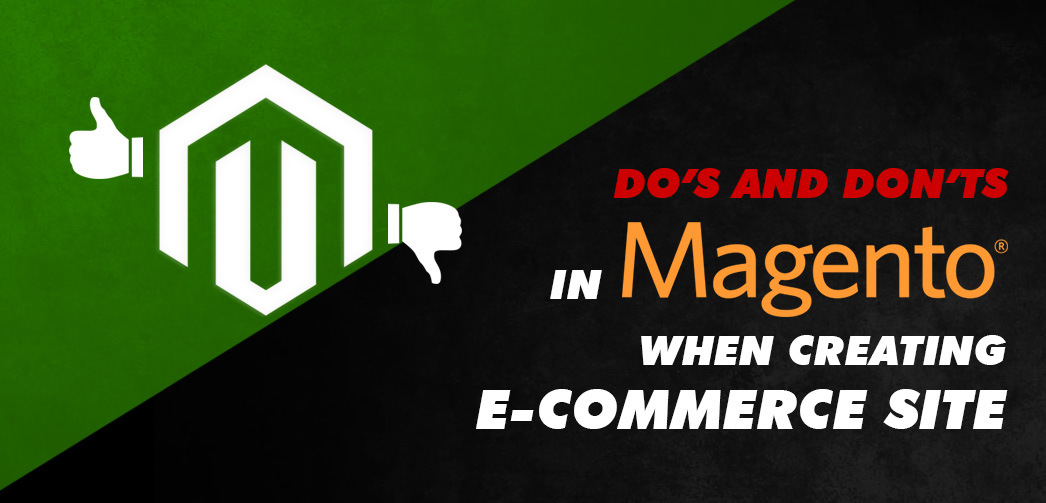 An impressive Magento website plays a vital role in making your business a success. Right from the flexible content administrating to simplified third-party assimilations, Magento has a lot of ingenuity and virtually everything that an online store owner can solicit for. If done right, your Magento website can do wonders to your business, but, a badly executed website can even avert your customers, hence, decreasing profitability. Therefore, it is always better to consider must-do and must-avoid things while developing a Magento website.
Do's
Let's look at what works when it comes to Magento eCommerce website:
Keep it Simple
As the saying goes, simplicity is the best policy… same can be applied when it comes to designing your Magento website. While developing, Magento developers should preferably refrain from overdoing the Magento website. A simple website is easier to navigate and therefore, attracts visitors. It is advisable to put simple Magento plugins and extensions while developing the website. Every website page should be desirable, easy to access and have appropriate links to increase visitors experience and satisfaction. A simple website leads to fast navigation, which means it will make your customers keep coming again.
Loading With Speed
It is a known fact that when browsing any website, visitors abandon a site within a few seconds if it is taking too long to open. Therefore, make sure the loading time for the Magento website is fast. Loading speed is one of the many crucial elements in shaping up the popularity of any eCommerce website. Usually, the common mistake online store owners do is overload their eCommerce stores with affiliate links and many product items. With each uploading on the page, the speed at which your website opens and functions slows down.
Clear design & functionality
Usually, when visitors browse your website, the pleasant design of your website and images of products have an important role to play in helping your potential customer to buy. E-commerce store owners prefer to apply techniques and design that are clear and easy to navigate.But with time evolving, it is also essential to keep adding, upgrading and improving your e-store with latest features, layouts and functionalities to catch the attention of your prospective buyer. Therefore, while designing your eCommerce Magento website, make sure you choose a clear and simple design and functionality that can be altered without any fuss later on.Also, considering that your website has a long list of product categories, finding a specific product is a task for the browser. This is where the search feature comes into the play. It's essential for that your e-store's search functionality operates and offers relevant results for searches. You may also want to consider indexation of blog posts, news, etc., besides the products.
Precise customer service
With so many eCommerce stores already in the online space, it becomes tough to make a lasting impression on your potential customer. The only factor that will keep you at par is customer services. A prospect customer will always be loyal to the website that has excellent services, before and after the sale. Provide quick customer services before and after the sale to keep the customer coming to your site. It is also important to respond to customer queries, be it a wrong product choice, damage of product, product dissatisfaction or delay in delivery, on time or the prospects will click away to another store.Therefore, ensure that your customer service is accurate and is able to handle the situation well and ultimately leave a positive impression on the customer.
Don'ts
These are some of the practices that are better avoided:
Too much Data
Avoid filling up the web page with too many data. Making excess use of data such as videos, animations, images and design will make your website slow and time-consuming, hence driving your customer mad and daunt your image. Also, flaunting too much about your business on the eCommerce website can be a huge distraction for customers. It is always advisable to be brief and to-the-point while providing information and facts about your business on the site.
Don't clutter ads
Usually, e-store owners end up cluttering the website pages with too many ads. Though it seems a lucrative option for the business, for the customer's point of view these ads could be bothersome, and will even affect your credibility. Therefore, avoid putting too many advertisements on your website and keep a tab of the pop-ups regularly. If possible, avoid including introductory advertising on the first page of your website.
Don't ignore blogs
Like it or not, blogs can be of great help to your website as it can be a great option to connect with your customers. Blogs help retain customers' attention and help to form bonds with them. Through your blog, you can solve queries and offer solutions to customers' issues on a one-to-one basis. This will not only let them know about your business better but will also build a good and long relationship with your customers. Blogs are a great way to inform your customers about various offers and discounts on your website. Blogs will give buyers reason to visit your website again and again.
Don't block customer comments & reviews
As an eCommerce store owner, you probably may not be aware of the influence of customers' comments and reviews. Reviews are the social proof of products and if handled properly, will earn the trust of your customers. Today's consumers are well versed with the products and know what they want. Good reviews of the products help them to make their mind purchasing the product. However, don't try to block or delete negative reviews as it can affect the image of your business indirectly. In fact, learn from those mistakes and improve where things may have gone wrong.
Conclusion
A good and efficient website takes time and efforts to build and prosper. Do not expect overnight success. You can surely avoid making mistakes while getting your Magento eCommerce store by taking care of the above-mentioned points. Hopefully, these do's and dont's will help turn your website into a profit-corner.
About PWS
Planet Web Solutions is a leading Magento Ecommerce Website Development company, with a far-reaching and in-depth knowledge and experience in developing Magneto Stores for all types of businesses. Our team of skilled and talented Magneto developers are technically sound to help in satisfying your requirement.
We are aware of the mistakes that can lead to the failure of an eCommerce website and ensure consistent performance of your site. Contact us today to discuss your requirements.
How useful was this post?
Click on a star to rate it!
Average rating
Vote count:
We are sorry that this post was not useful for you!
Let us improve this post!
Thanks for your feedback!