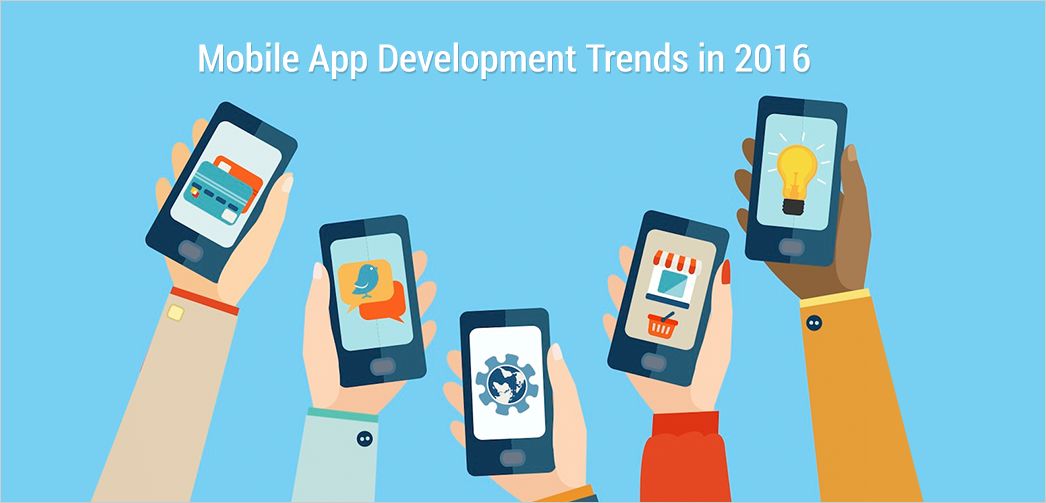 Mobile apps have taken the center stage when it comes to technology innovation, making it easier for smartphone users to carry out day-to-day things on the internet like ordering food, shopping, tracking services, mobile banking, news updates and so much more. The partnership between mobile phone and mobile applications has created an entirely new digital bubble which is continuously revolutionizing the way people live and interact.
The number of smartphone users worldwide is projected to go beyond 2.15 billion in 2016. With the popularity of mobile apps on the rise, it is obvious that organizations and Mobile App Developers are engaged in developing new applications for various mobile platforms like Android, iOS and Windows Phone. As we move towards the next age of intelligent apps, it is important to take stock of the emerging trends that are shaping the mobile technology in 2016.
1. Making Way for M-Commerce
Be it shopping online or using banking services on your smartphones, mobile commerce (M-Commerce) is becoming an integral part of our daily life. This habit will continue to rule our digital world even in 2016. Bolstered by this, App developers are busy trying to make our life easy by coming out mobile apps that will help users make transaction process even faster, easier and safer.
2. Free & Faster Apps on the Rise
According to apps experts, over 80% of mobile apps available are free and the popularity is expected to grow further more in 2016. This means Android and iOS apps developers will have to adapt to developing apps faster than before as the main revenue generation will depend more on in-app purchases and the number of mobile apps is likely to rise by around 310 billion. With solutions like rapid Mobile app development tools and frameworks already out in the market, the App developers would be able to deliver consistent value to users.
3. Choosing Enterprise Apps Over Consumer Apps
With the massive increase in the usage of mobile devices around the world, all the major enterprises are expected to have their own app development platforms. Since the monetary benefits involved in enterprise apps are much higher, companies are ready to shell more to get the best app available, just to be ahead in the market. This indicates that there will be ample of opportunities for enterprise app developers to work on building and managing applications for the enterprise market. Further, with the surge in the demand for cloud computing and cross-platform devices, the demand for cross-platform enterprise apps will rise in the coming days.
4. Accentuate User Experience & App Analytics
Be it a small display of a mobile smartwatch or bigger screen sizes of iPhones and Android handsets, a good app is required to constantly retain its functionality and efficacy across all devices. This means that the development of cross-platform apps will be more acute than ever in 2016 and app developers will be expected to be more proficient in order to lead the market. Further, there has been a greater emphasize on user experience and apps analysis as big companies are already collecting data on how users interact with the mobile technology. It has been predicted that the developers and user analytics will be steering technology and driving significant decisions in app development process to create better user experiences in near future.
5. App Security on Demand
More than 75% of the apps failed to meet basic security measures in 2015. With so much highly sensitive personal information being stored and shared on the mobile devices and cyber-crime looming large, the role of an effective mobile app security has become even more demanding in 2016. If developers want their apps to be successful, they need to beef up security protocols. This will keep developers on their toes throughout the year. As cyber security is becoming increasingly important for businesses and consumers, developers are expected to meet security challenges and issues with better app security.
6. 'Internet-of-Things' Far Bigger in 2016
Being built on cloud computing and networks of data-gathering sensors, it has been predicted that the virtual and instant connection by the Internet-of-Things is going to make our lives smarter. Despite in the nascent stage, Internet-of-things has brought a massive shift in digital technology. With further advancement of Internet-of-things, the future of mobile app development will altogether become a different ball game. New found innovations like the wearable device and smart devices are expected to propel the Internet-of-things and users to an extraordinary level of connectivity. Regardless of what's in store, Internet-of-things is sure to play a pivotal role in our lives and businesses.
7. Cloud Technology Integration
With the rise in the popularity of mobile devices in the market, app developers are banking on integrated cloud-based apps to build functionality needed to synchronize data across a wide spectrum of devices. Since cloud technology comes with benefits like retaining the small size of apps or managing bandwidth or sync apps, it has gained greater impetus in the present time. Cross-functionality of apps is on the rise due to the increase in the importance of cloud-based apps. Also, a union between cloud and mobile computing will allow people to sync their applications across multiple smart devices.
According to experts, this year, mobile apps are likely to become a $77 billion industry and as things are shaping up, these trends will be the main drivers in this field in the coming months. These apps will make a noteworthy revolution in the way people engage with each. These new mobile app trends are going to grab the attention of the developers in 2016, for sure, as it is going to be a crucial year to embrace these trends and create an ultimate and unifying experience for consumers.
Do you have a Mobile App Idea? Share it with us and we will help you in taking your idea to the floor! Contact us today to discuss your requirements!
How useful was this post?
Click on a star to rate it!
Average rating
Vote count:
We are sorry that this post was not useful for you!
Let us improve this post!
Thanks for your feedback!