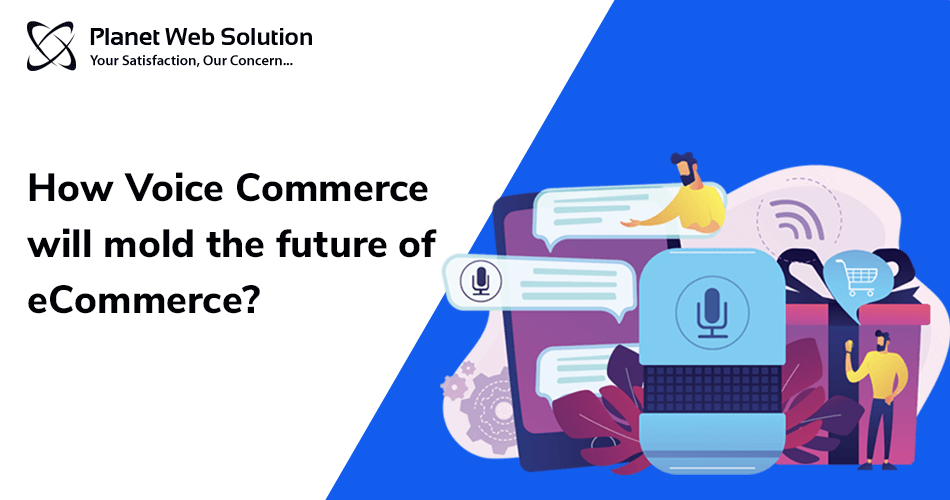 We all know that smartphones play a major role in driving online sales. The restrictions imposed during the COVID 19 have accelerated eCommerce growth. During global pandemics, eCommerce websites experienced a huge rise in sales. And even post-pandemic, consumers shift to eCommerce is expected to continue. So, if you still aren't running an eCommerce store, it's high time now!
Modern retailers are constantly looking for best strategies and practices to increase their sales, focusing to offer personalised experience to users by upgrading their eCommerce capabilities, using next-generation technologies.
Voice search in eCommerce is ready to transform the way people shop, eCommerce websites work and ultimately the future digital commerce landscape.
What is the importance of voice search in eCommerce?
Introducing voice commerce in your eCommerce website can be a game changer strategy. On the contrary, neglecting voice search may result in losing the obvious opportunity. In this era of technological advancement, it's imperative to pay attention to the growing trend.
By the end of year 2022, it has been estimated that 55% of all American households will make online purchases with voice shopping hitting $40 billion by the same year.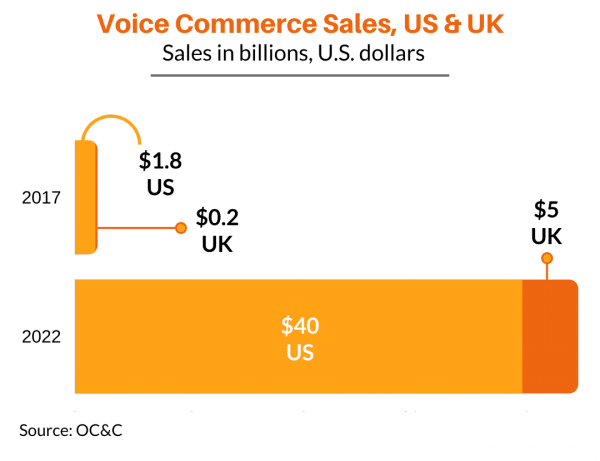 Reasons why Voice Search is the future of eCommerce
Deliver Personalized Shopping Experience to your customers
Voice search delivers a personalised shopping experience to users facilitating them to shop online with ease. For example, if a customer makes frequent purchases with Amazon, the voice assistant can suggest items similar to their previous purchases. In case of a medicine delivery app, where monthly medicines are ordered, voice search can make the task even easier for the user providing them notifications for repeat purchases.
Time-Efficient
 It's quick and easy to place an order, register a query on an eCommerce website through voice search, typing a query may consume more time. It has been noticed that the average speed of a person is 30 to 35 words per minute and with voice search it could be 100 words per minute, allowing users to communicate fast and get the desired search result promptly.  The major benefits of using voice search in eCommerce websites is that the user can make the online purchase while being occupied with other activities such as driving, cooking, watching TV, and more.
Allowing Smart Shopping
 Voice search features aren't limited to just shopping, they are a best fit with artificial intelligence as well as machine learning. Voice search is a smart feature that captures a user's online shopping behaviour and habits and assists accordingly.
Easy to obtain Customer Reviews
Ecommerce entrepreneurs love to showcase the customer's feedback and reviews on their site. But collecting reviews is not an easy task for businesses prior to the introduction of voice search in the eCommerce world. Voice Search offers the ease and convenience of reviewing products or services making them more genuine and meaningful. Such positive reviews help the product to grab more attraction among the prospective customers. They can get rid of the time-consuming task of typing lengthy reviews/feedbacks, voice assistants simply ask for specific questions and ratings, and customers can share their experience hassle-free.
Improve search optimization
Voice commerce is the best choice to adapt to your customers' changing product navigation and shopping habits. As per the eCommerce experts, there could be some side-effects on the SEO efforts for optimizing for voice search.. Here's a scenario: you sell formal shoes in your ecommerce store, and a consumer asks Siri "where to find formal shoes near me." If you're not optimized for location and keyword-based search you may lose a prospective customer. On the other hand, if you have already optimized your eCommerce website for keyword-based searches and location, and you happen to be in the right location, you will get a new potential customer.
Keyword data for voice searches has not been released by Google yet, but SEO experts are using general keyword research to evaluate what people are asking in general that relates to your product offerings or that you can optimize for.
Popular Brands using Voice Search to boost their Sales
Johnnie Walker
Nestlé
Domino's
Patrón Tequila
Start Small with Voice Commerce
It's important for eCommerce entrepreneurs to keep a close watch on new technological developments, adopt the latest technologies that can empower their eCommerce website.
Our eCommerce experts will create a voice search optimization strategy that works for your eCommerce site and takes your business to the next level!
We are sorry that this post was not useful for you!
Let us improve this post!
Tell us how we can improve this post?