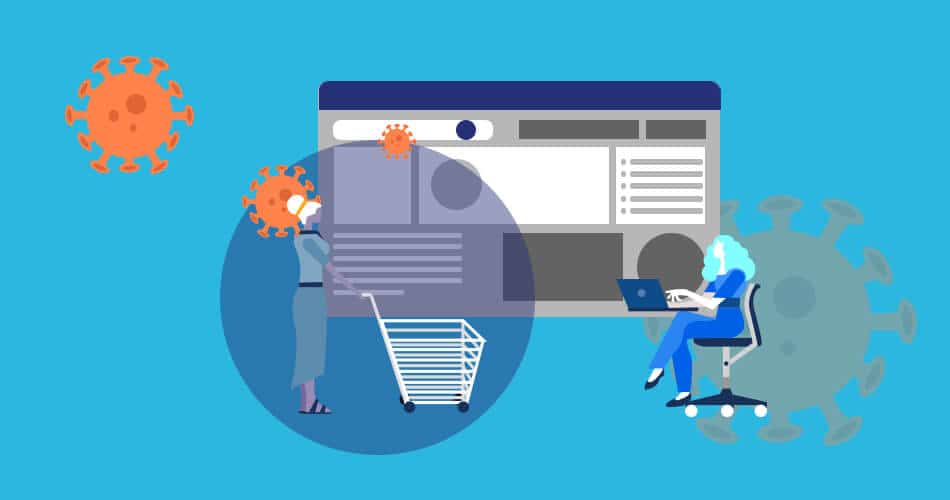 The corona virus pandemic has drastically impacted the economic, social, and political conditions of every country. The unforeseen shutdown of brick and mortar stores and uncertainty in consumers' spending behavior has left the businesses trying to figure out how to drive their business forward. In this article, we'll discuss the impact of corona virus pandemic on eCommerce business and eCommerce solutions for small businesses.
 The impact of Corona virus on eCommerce
In the days of lockdown and social distancing, eCommerce has proved itself essential in today's modern world. There are a lot of unknown things right now: how the market will react, how far the corona virus will prevail, how much supply-chain will be affected, and many more, it's difficult to forecast the impact of corona virus on online sales growth of different product categories, but the results are definitely not going to be consistent across the board. According to Ship Bob's daily updates,
Baby product sales have raised online.
Food and beverages, grocery sales have also increased.
Jewelry, apparel, and electronics are all down.
Toys and games have shown mixed results.
Online shopping will rise
When stores selling non-essential products were ordered to close by the government authorities, consumers started to shop online. According to Adobe Analytics, US Online sales experienced an increase of 49% in March over the previous month. As per the various corona virus surveys, the shift to online shopping is expected to continue even after the Corona virus threat.
Retailers are facing supply-chain issue
One of the major challenges faced by online merchants is related to supply-chain issues. Many factories closed for several weeks and the transportation channel across nations was also sealed. And because this supply chain was drastically affected leading to shipment delays, labor shortages, and technical flaws this has also increased retailers' concern about whether a particular country or a manufacturing company can be counted on as a trustworthy source of products in the future or they should diversify their supply channels.
Surge in online orders could be negative for e-businesses
The surge in online orders will create pressure on businesses to fulfill them. And because of the labor and inventory shortage, it would be challenging for e-merchants to offer people to shop with same-day delivery assurance, pick-up, and drive-up.
 The Covid-19 pandemic is bending but not breaking the eCommerce business
With the increase in technological advancement and consumer's shift to online shopping, many brick and mortar stores have already opted for various eCommerce solutions but now eCommerce web development is going to experience a great hike. The closing of many brick and mortar stores will give an advantage to e-retailers in increasing their online market share.  According to the investment professionals, the Covid-19 pandemic is expected to provide a long-term uplift for online retailers. Consumers will wonder "Should I go to the mall? What if I encounter a Corona positive person?" The Corona fear factor will push consumers to shop online. Instead of going to a crowded place, consumers will prefer to shop for every possible thing online. This will give an opportunity to eCommerce stores to reap sales from consumers unwilling or unable to go to physical stores.
B2C eCommerce and COVID-19: eCommerce solutions for small business
Are you scared of losing your business due to the Corona virus pandemic?
Do you want to move your existing business online? It's high time now!
Encourage your customers to shop online
Limiting physical contact, maintaining social distancing is the need of the hour. COVID-19 outbreak is a good time to move your customers online.
Tell your customers that your web store is alive and operational even if your physical outlet is closed.
Help your customers to operate your online store and place orders.
Look after your existing customers
Offer additional services like additional discounts to the people living in the affected regions or sub-regions.
Prioritize the stock for existing customers over new customers.
Support customers facing financial troubles by offering an extended invoice payment date or additional return options.
Ensure your e-shop meets the needs of your valued customers
In today's world of technological advancement, it's not enough just to have an online store. Your eCommerce site should also have the below set of features:
Easy to navigate.
Should provide complete, accurate, and real-time information of products, available stock, delivery tracking details, etc.
Easy and high-secured checkout process with multiple payment options.
Ability to process complex orders of products with complex pricing and discounts.

Opt for the right eCommerce web development services
The eCommerce web development market is overflooded with numerous companies each one claiming to be best. To ease the process of selecting the actual 'best', the leading online communities like Clutch, Good firms, etc, releases the list of best eCommerce web development companies and we are proud to announce that Planet Web Solution has secured a prominent place in the list of top 10 eCommerce developer in March 2020. Partnering with the best eCommerce web development company like Planet Web Solutions increases your probability to establish a successful online business. PWS experts know every ins and outs of eCommerce as they have successfully launched and established various eCommerce sites. Our team of eCommerce professionals has solid hands-on experience in developing sales-driven eCommerce sites/ apps, taking your business to the next level, and implementing proven eCommerce strategies that have no scope of failure. We help our clients to reap the maximum opportunities on the digital playground and enjoy increased sales with high profits.
Conclusion
It's high time for B2B and B2C businesses to learn to adjust their eCommerce operations which yield high revenue. To wrestle with the tough business challenges, web merchants need to improvise their business operating tactics that will work more effectively for the long haul, opt the right eCommerce solutions, implement new technology, understand the socio-economic condition of their country, and accordingly run the advertising campaigns to get the maximum share of the pie. With the changing global situations, it has really become difficult for eCommerce operators to understand the consumer's behavior. This is why to protect their business with Corona virus storm and make the most of this opportunity by connecting the right audience and applying the right business strategy, e-merchants really need to take tips from eCommerce experts or partner with the best eCommerce solution provider company.
We are sorry that this post was not useful for you!
Let us improve this post!
Tell us how we can improve this post?