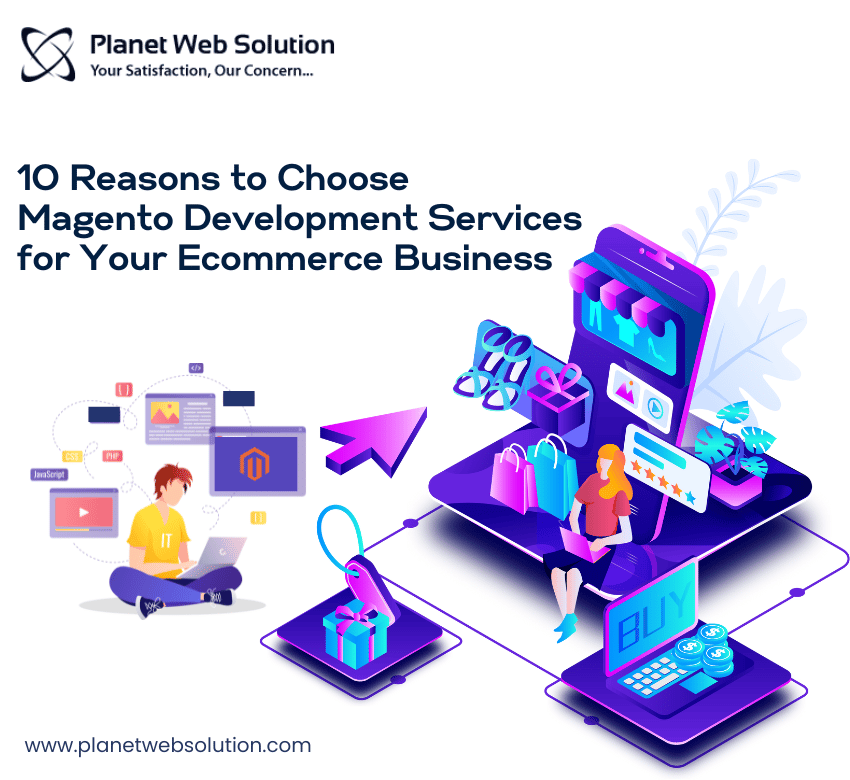 Magneto is becoming one of the most popular CMS frameworks for developing eCommerce websites for businesses globally. This rising popularity is not without good reason. It has a robust and flexible environment that enables developers to create a website quickly and efficiently. It also makes the process faster and more efficient. If you still feel unsure about opting for a Magento 2 development company for your CMS framework, you have come to the right place.
Read on to know why Magneto should be your first choice for CMS frameworks.
Reasons to Choose Magento Development Services
It Is an Open-Source Framework
Open source means it is free to use for anyone on the internet. If you are a small business and have a tight budget, you can opt for magneto to save money. Its free version has all the essential features to build a small eCommerce website.
Flexibility
Magento enables developers to add new features to your website seamlessly. You can make changes on the server end without disrupting the client end of the website. Also, you can customize your website to a great extent to meet your brand and product requirements.
SEO Optimized
SEO optimization is crucial for any website to generate traffic and conversions. Magneto's community focuses explicitly on providing SEO-friendly features to its clients, such as optimized URLs, sitemaps, meta tags, descriptions, keywords, and much more, to make your eCommerce website more SEO-friendly.
Responsive and Scalable
Magento framework ensures that your web applications and websites run smoothly on all devices, including mobile ones. It also lets you scale quickly as your business grows, making it one of the best options in the market today.
Manage Multiple Storefronts with a Single Back-End
This Magento feature lets developers easily add various shopping stores to your website. You can also add thousands of products and catalogs to these stores in one go through Magento, making the job far more efficient and faster.
Cross-browser Compatibility
Magneto offers cross-browser services that enable you to run your website smoothly on various browsers, enhancing your website's visibility. With advanced SEO features, your website can rank high easily on different search engines and be seen by more people.
Third-Party Software Integration
Another significant benefit of using the Magento framework is that it offers third-party software integrations. SO if you are missing any features or want to add something to your website, you can do it through extensions and plug-ins. On top of that, you can also integrate it with other CMS frameworks like WordPress.
Multilingual and Multi-Currency Support
When running an eCommerce business, you can always expect cross-country traffic, which means people from different backgrounds may visit your site and make a purchase. That's why it is essential to have multilingual and multi-currency support on your website. Magento offers this service to its clients.
Seamless Checkout Options
Studies show that customers opt for a different site if your website has a complex checkout procedure. More and more customers want a single-click checkout option these days. Magento understands this and offers various seamless checkout options to its clients that you can integrate into your eCommerce website.
Reviews and Communication
Magento enables you to develop seamless review and communication channels on your eCommerce website so your clients can leave reviews on your products and also talk to you if they are facing any issues.
About Us
Planet Web Solutions is a Website Development Company in Jaipur, should be your one-stop destination if you are looking for a top-notch Magento development company in India. We have a team of expert developers who can care for all your Magento eCommerce web development requirements. Our Magento development maintenance support services are among the best in class in India.
We are sorry that this post was not useful for you!
Let us improve this post!
Tell us how we can improve this post?