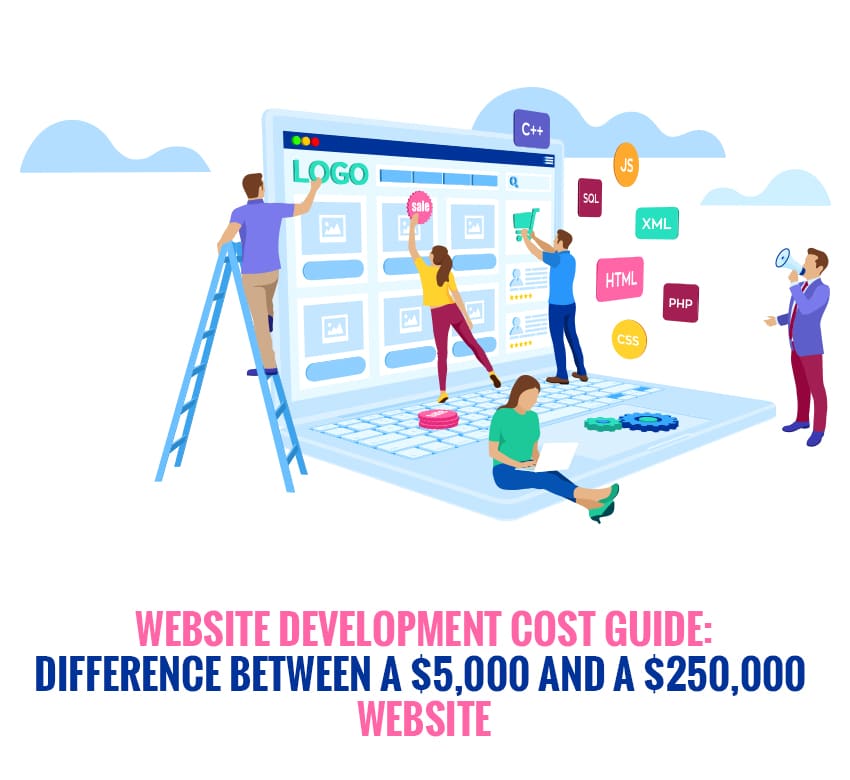 You have an innovative idea but are confused about the web development cost. FYI, there is no standard amount but usually, the price ranges from anywhere between $5000 to a whopping $250,000.
You may wonder what's so special about the premium websites that they cash in such an exhaustive amount.
Don't worry! This is a definitive guide about website development costs that will walk you through its different aspects.
Compare the differences and make the right decision- something that exactly suits your budget and requirement. So, let's begin.
Standard vs Custom-Built Website
While developing a website the back-end processes have a huge contribution and thus demand a higher investment.
However, it's not the case always, as people who are on a budget prefer low-cost source codes like WordPress, Wix, Squarespace, or Shopify. These platforms do not charge a huge amount and are apt if you're looking for something easier and quicker.
But it comes with its own loopholes like slow processing and redundant features. If your business is on the heavier side then you should go for tailor-made websites.
Using this method will help you build a website that scores higher on performance and user experience.
Add-on Features
Features are something that makes your website standout in the crowd. They define the purpose of your webpage and in turn, adds to the cost of development.
The more features you'll incorporate, the higher the price will go. So, here you need to pick and choose your absolute essentials.
We are talking about both the backend and frontend features. For example, if there's a cab service website then one will need local cab drivers, google location, GPS tracking, online payment, filters for different kinds of vehicles, promo codes, etc.
All of this will end up raising the overall cost. Frontend features include graphic designing, UI interface, and other additional functionalities.
Hiring a Development Team
Not everyone is a web developer and you do require someone or perhaps a team to help you build a website. Now, the number of people or experts is a deciding factor for web development cost.
You may ask 'what is the ideal number of web developers to hire?' Well, it depends on the complexity and quality of the features. There are several ways in which you can hire developers:-
Take help from a freelance web developer
Enquire from a web development company, or
Set up an entire development in-house team
Now, there is no hard and fast rule to pick any particular option. It is generally determined by your budget and project requirements. A simple website can be developed by 1-2 developers but a complex multi-page website will probably need a team of 5-6 developers.
Deployment and Maintenance Pattern
It's hard to digest that you don't have to spend on web development alone but a huge sum goes into its deployment and maintenance as well.
You need to keep an eye on the latest upgrades and system issues that your users might report. These issues can be inconsistency between old and new interfaces, cyber security, or data loss.
Don't make the mistake of delaying the deployment. As soon as you find a bug, try to fix it otherwise the cost will only escalate.
You may hire the same or a different team for maintaining your website. If it's simple you don't have to worry about all this. Just make sure you do regular web testing once a year.
How useful was this post?
Click on a star to rate it!
Average rating
Vote count:
We are sorry that this post was not useful for you!
Let us improve this post!
Thanks for your feedback!