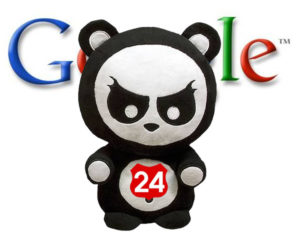 Google has officially announced the first Panda update of 2013 with Panda Refresh 24, released on 22nd of January, 2013. Since its inception in February 2011, Panda Updates have thrilled the SEO world at a comparatively fast pace, taking down poor quality sites. According to the 24th version of the Panda update, 1.2% of English Queries will be affected. Prior to this version, the impact was that of 0.8% on queries.
The bottom line which should be noticed about the latest Panda refresh is that while 1.2% seems a relatively low figure, Google is constantly making changes to their algorithm. Due to these adjustments, many sites are largely affected while others rise in the rankings.
With these regular updates by Google, a proper planning and strategy is needed to be constructed so as to stay at your best position on SERP's. We, Planet Web Solution Pvt. Ltd., always have an optimal solution for you. We are always armoured to prevent your websites from these updates with the help of quality "White Hat SEO" techniques. From our several years of experience, we have learnt that to get over such updates you need to focus on-
Updating "Linking Strategies"
Checking "Over-Optimization"
Keeping "User Experience" in Mind
Some major recovery steps from Google Panda Updates are as follows-
Always keep well written and original content before posting it to your website or blog.
Analyze each aspect like keywords; Meta tags, etc. where you might have over-optimized your page.
Always use some variations while creating your Anchor Text. Never use same Anchor Text in your link campaigns.
Engage yourself in social media specifically in Google+, Facebook and Twitter. You will definitely get good credit if you have good social presence.
Planet Web Solution Pvt. Ltd. has all the qualities to outperform these updates and provide you with the best results to rank above all!
How useful was this post?
Click on a star to rate it!
Average rating
Vote count:
We are sorry that this post was not useful for you!
Let us improve this post!
Thanks for your feedback!