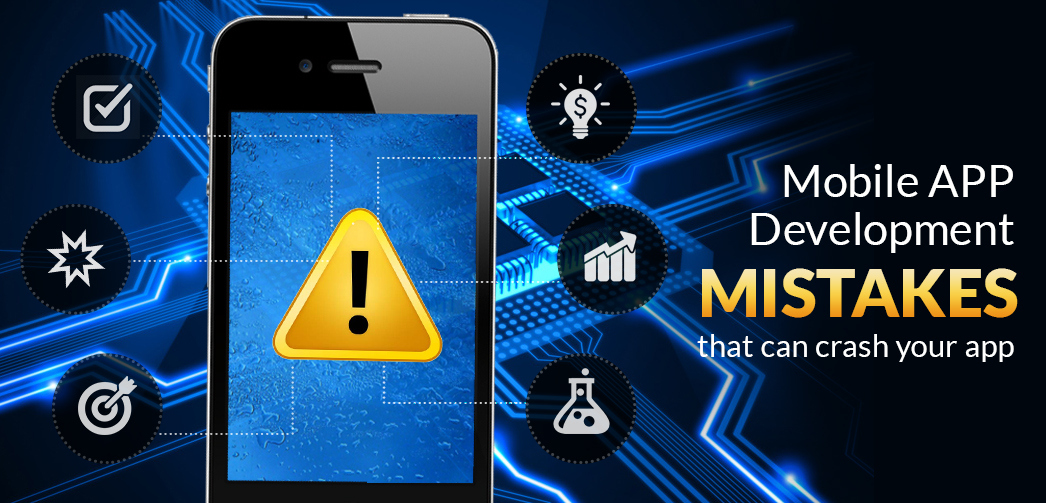 It is no news that mobile apps are more than just a trend.Today mobile apps have replaced the browsers and have the competence to help brands build a relationship with digital customers. But when mobile apps slow down or freeze or crash, the brand loses its value instantly. In a survey done by experts, more than 61% of users want their mobile apps to start working right away while 49% prefer the response to inputs in few seconds. And when an app crashes or freezes, more than 53% of users will uninstall it right away. Stability and success of any app depend on its development process.
In the Mobile Application Development process, there are many mistakes mobile app developers tend to do that might mar the mobile app. It so happens that app developers, in the rush to complete the app on time and launch it, forget to take proper measures and, therefore, fail to identify the loopholes that may crash the mobile apps. In short, compromising on the quality of a mobile app will lead to its failure. Therefore, if you want to improve the marketability of your app and boost downloads in the app store, avoid these common Mobile Application Development mistakes to save your mobile apps from failure:
Mistake #1: Unable to Identify Right Platform
The ever growing competitive mobile app market is compelling mobile app developers to create magic and bring innovation on the platter. Considering the fact that more and more apps are coming up every day, developers are burdened with pressure to create and develop mobile apps quickly and market them at the earliest.
Is it iOS, Android or Windows: which platform should you choose? This is the question that every mobile app developer faces before making the app. When selecting the right platform for an app, a developer needs to ask himself questions like 'who is my target audience' and 'what kind of device they use', and so on. Understand who will use your app and why. Many times, in the process of developing an app for multiple platforms, a developer forgets to follow a right monetization action. Instead of focusing on building an app on one platform first, developers end up building an app for multiple platforms which tend to double their engineering costs. This is the biggest mistake that app developers tend to do nowadays.
Further, after launching an app on both platforms at once, if a developer needs to make any changes to design or finds functionality bugs afterwards, it gets difficult to make timely fixes and adds more development cost and time as well. Therefore, it is advisable to first finalize which app platform to use and also plan on preparation and testing before porting it on either iOS or Android. Do not release your app unless you are clear about its functionality and performance. It is also advisable for mobile app developers to not to thoughtlessly trust a platform just because it is popular but instead consider appropriate platform while designing an app.
Mistake #2: Build Without Marketing Strategy
No matter how innovative and well-designed your app is, if you don't have a comprehensive marketing plan to increase visibility, it will not sell. With cut-throat competition, marketing your mobile app in a right manner is equally important as making one. Developers make a common mistake while underestimating marketing plans and toss the app into an ocean of rivals.
So, how can a mobile app developer make sure his app will survive the competition? Simple, by chalking out proper marketing plan to launch the app. But before you begin, make sure you know your target users and how to address the specific needs and trends in the market. One needs to figure out a convincing reason why your target user should download and use your app. Once you are aware of this, start building your app around this space. A developer should try to make a mobile app that can benefit from featured status on mobile app stores. The Proper marketing strategy will give your app a big boost. To increase your app visibility, one needs to get press coverage, create distribution plan, and advertise on social media.
Mistake #3: Explode Apps with Maximum Features
Keep it simple because a good consumer experience is all about doing more with less. Nowadays, most mobile phones come with exclusive in-built features. Therefore, an end-user will want an app that his smartphone lacks. A smart mobile app developer will try to concentrate on adding features into his apps that are unique and efficient.
But usually, it is seen that developers try to fit in as many features they can in the app, hence crowding and complicating the entire user experience. A developer should know what app his target audience requires, what features need to be added and which feature he wants to highlight. Instead of bloating it with unlimited features, try to focus on key features that your target user would look for.
Mistake #4: Ignore Monetization
Many developers are under the impression that if they are successful in developing a good mobile app, customers will pay. But they fail to understand that most of the top downloaded apps are for free. With this, it becomes, even more, important to think about how you are going to make profit right from the beginning. Developers have a common misapprehension about monetization – like they think that advertising will support the app, or the app would be surely acquired by a company, or the customers will pay for the app.
Therefore, it is advisable to do proper research on apps that have the similar feature as yours, so that you can see how they monetize. Consider questions like: Will the users pay for the app or do you have to monetize through in-app purchases? What in-app purchases are being made recently? This will help a developer to be clear about how he can monetize the app after it has been launched.
Mistake #5: Insufficient testing
Testing is the vital step to ensure the success of a mobile app. It institutes the right amalgamation to match your target customer needs. The challenging part is to get adequate coverage. In the rush to launch the app, developers tend to rely on their opinions and release the app without sufficient quality testing and control. This lead to the failure of the app and the enterprise also loses its brand image. Therefore, it is important to understand that testing plays a significant role in the success of your app.
Adequate testing of the mobile app will not only comprehend where you are going wrong but will also be helpful in making your app bug-free and flawless in features, performance and functionalities. Avoiding the testing process will only end up in making an inconsistent mobile app that will fail in the market.
Final Note
While it's good to aim big, it's even better to avoid mistakes. No matter what app you are designing, the important thing is to prevent failure from right the beginning. By avoiding the mobile app development mistakes, you will be able to present your app on time and even make the profit out of it. Remember, if your app fails to make a mark in the market, no matter how good you think it is, you will also fail to get the trust and confidence of your target users.
Planet Web Solution, a leading mobile application development company, has an in-depth expertise and experience in developing apps for major platforms like iOS, Android, Windows and Blackberry. PWS has a team of skilled and talented mobile app developers to fit your precise business requirements.
We are cognizant of the mistakes that can lead to the failure of a mobile app and, therefore, we ensure a constant performance of your mobile app. Contact us today to convert your idea into a successful mobile app!
We are sorry that this post was not useful for you!
Let us improve this post!
Tell us how we can improve this post?