The Secret is out!
After entering the arena of World's Top-20 Ecommerce Agencies in March 2017, Planet Web Solutions had ascended to Clutch.co's much coveted Leader's Matrix. Among over 2057 ranked eCommerce Agencies, we ranked as one of the 'Top 15 most recognized leaders'.
To achieve this feat, Planet Web Solutions had to meet Clutch.co's stringent norms, just like all these eCommerce Agencies. Being able to consistently match Clutch's criteria is another evidence of our established reputation as one of the best customer-centrist ecommerce development company that continues to be worth its salt since 2004. This recognition is especially valuable as the rankings gained are organic i.e. non-paid, whereas paid-rankings to rank this high, cost around $3000 to $9000 p.m. at Clutch.co.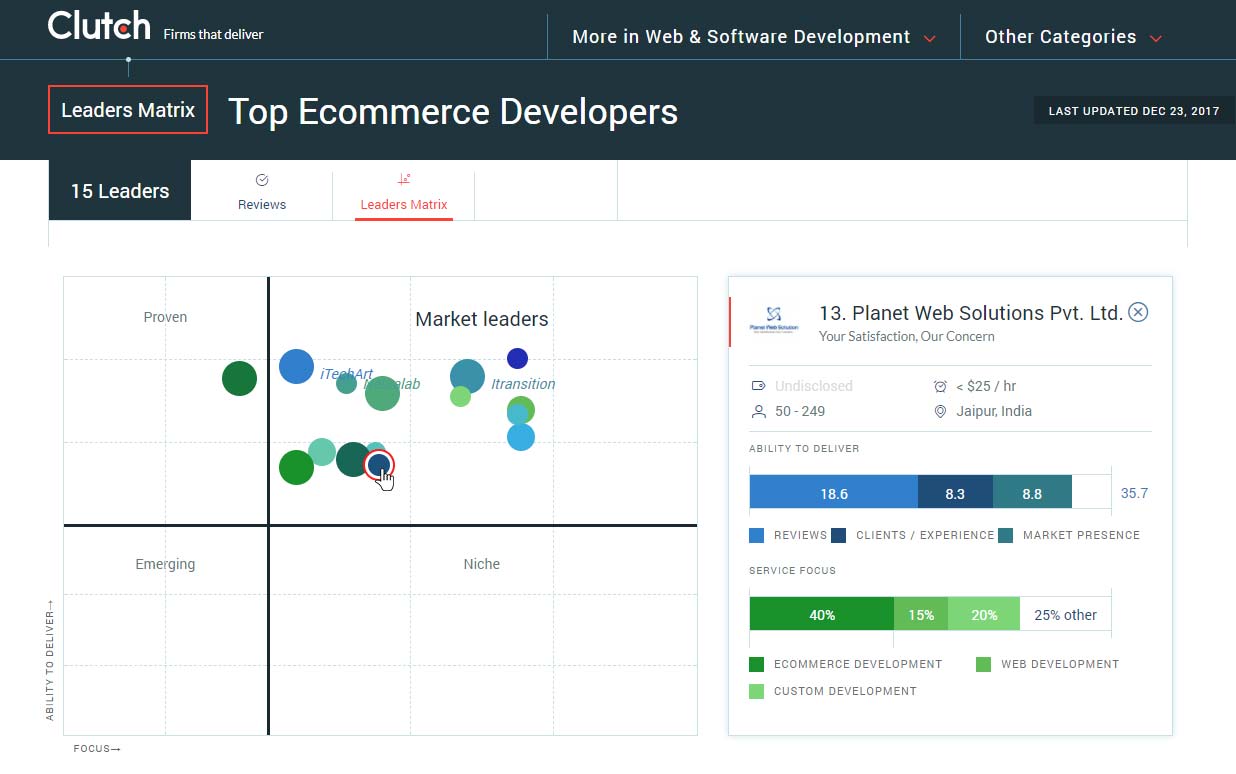 The core reason of this high-worth recognition is our expertise at both 'developing' as well as 'Managing' eCommerce websites. What's the difference, you might think but you aren't alone at that! Both are often confused as requiring the same level of skills & capabilities. We are not just an eCommerce development company but are also widely revered for our proven capabilities in the niche service segment of 'comprehensive technical management & upkeep of already-evolving eCommerce platforms'. This specialization is highly complex as compared to eCommerce-development, and thus the importance of having a proven eCommerce website management team is best understood by any eCommerce Owner/Director/Manager. To them, this is a specialization, truly worth its weight in gold. To be ranked amongst the 15 best eCommerce developers in the world is proof that our eCommerce team has high-worth capabilities, valuable to new eCommerce businesses as well as established websites. Quite understandably, We are treasured by our clients.
For all matters related to your eCommerce platform, Planet Web Solutions is the eCommerce development company that has the expertise & experience to support you for the long haul.
What can you expect from us?
Experience
With 14 years of experience, we've developed a portfolio of expertise that includes clients from many different niches.
Wide Ranging Development Services
Our other service verticals can take care of any of your development needs i.e. Magento/Custom ecommerce development, .Net development, mobile app development, custom development and high-end WordPress CMS development.
Planet Web Solutions also offers Cloud Based School Management Solution – a comprehensive ERP for educational institutions in any country or language.
Always Competitive
As a reputable ecommerce development company, we know how to strike the right balance between quality and cost. Our solutions are results-driven and services are always competitively priced!
Verifiable high Client Satisfaction
A consistently high level of customer satisfaction is, what has helped us achieve a 'Global Top 15 Ecommerce Developer' rank.
Our achievements are testimonial to the same:
Ranked among top companies on Clutch for Ecommerce Developers.
A 4.9 out of 5 rating on TrustSpot, based on over 205 top Client Reviews.
A 4.89 out of 5 rating from GoodFirms
Winner of the '2016-Hot in City Award'
Top Magento Web Development Companies & Developers 2019 by ITFirms
We welcome you to check for yourself if We are as good as we sound. Call / WhatsApp at +918952953777 today. We'll be happy to be acid-tested!
We are sorry that this post was not useful for you!
Let us improve this post!
Tell us how we can improve this post?