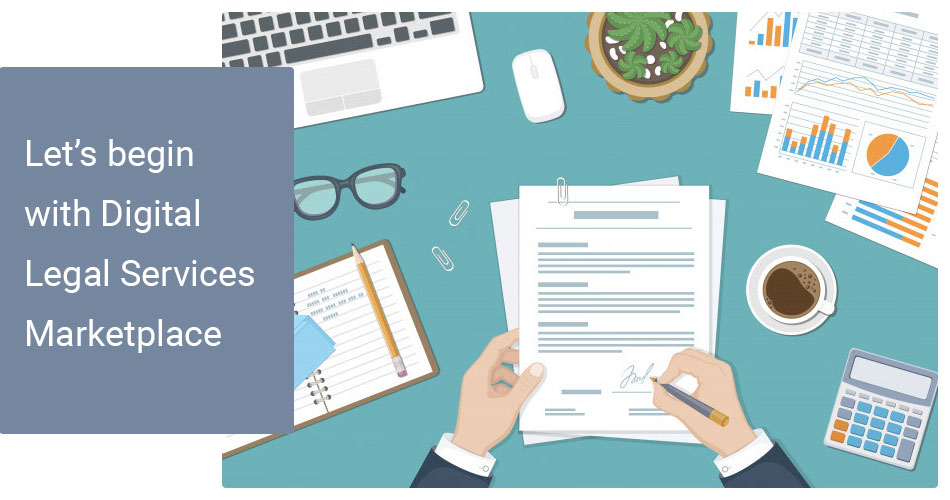 Do you want to get legal assistance at the touch of the button?
Do you want to offer such services to people looking for legal assistance?
Everyone needs legal assistance at some point in their lives. For complicated business transactions, real estate deals, commencing a new business or expanding the existing one, respond to the legal notice, file or defend a case, divorce assistance and for many other events in life, one needs legal help sooner or later.
Broadly, the legal services can be divided into the below-listed segments:
Family lawyer & Matrimonial
Banking and Finance
Civil and Property
Employment and Labor
Business and Mercantile
Criminal
Cyber, etc.
Legal Services Marketplace offers a platform where the individuals/ Entrepreneurs seeking for legal services can connect with the independent lawyers or legal firms.
Is Online Legal Services Marketplace beneficial for Lawyers & Individuals?
Undoubtedly, the answer is big YES!
Lawyers can take their legal practice to the next levels
The lawyers can expand their services by acquiring more clients from different parts of the globe. At the same time, they can continue their services at a law firm or by working independently.
"Getting answers to the day-to-day legal situations with just a few clicks is a beautiful reality offered by the online legal services marketplace."
Individuals or Entrepreneurs can hire an expert lawyer to get a legal advise
The individuals or business owners can find the right legal advisor as per their requirement in just a few clicks. They can compare from a community of lawyers and choose the best suiting their legal needs.
The clients, as well as lawyers, are embracing the online lawyer marketplace because of the flexibility and quality legal solutions offered by this marketplace.
Build a better future for Law
Year's back, the clients looking for assistance in legal matters has just two options. Either to approach the traditional law firms or to settle it by consulting the lawyers personally. Now, modern clients have many options.
Finding a right lawyer for the legal advice was never so easy, before the existence of Legal Services Marketplace. If you are looking for a quick answer for a legal question but don't want to travel or consult multiple lawyers, you can easily connect to a community of lawyers, choose the right lawyer as per the required legal advise and ask them to deliver the legal services tailored to your specific needs.

How to find the right lawyer?
1. Write your legal query
You have two options: a) Choose your lawyer yourself from the wide panel of lawyers. b) Allow the Admin to match the right lawyer fulfilling your legal query.
2. Select the lawyer and book the consultation
3. The lawyer will call or personally meet, whatsoever is decided at the time of booking the consultation. The lawyer will provide legal consultation and get paid for his job done.
Differentiate yourself | Overcome the Challenges faced by digital Legal Services Marketplaces
For years, it has been observed that there are significant challenges faced by online legal services marketplace. So, we advise you to work on these hurdles, in order to provide better services than your competitors and capture the untapped market leftover by the existing leaders of the industry.
Amazon – The granddaddy of Online Marketplaces
The most popular marketplace in the world – Amazon can hold its no. 1 position because the customers trust the information provided and the quality of products and services offered by Amazon.
This is the major challenge faced by existing legal services marketplaces. None of the lawyer marketplaces managed to provide reliable quality information to its users. That's why we suggest you maintain quality services if you wish to succeed the competitors.
Read Also: How Travel Management Software Can Boost Your Travel Business?
Points to keep in mind
The clients should have quick access to an experienced network of law firms or a community of experienced lawyers that has a proven track record of excellent legal solutions.
When it comes to deciding the pricing model, use fixed free instead of charging hourly.
As obvious, the clients will look for legal services overcoming the limitations of traditional legal firms. That's why try to offer 24*7 emergency access to legal services within the quickest time possible.
Offer affordable, transparent and accountable legal services to the clients.
Create a marketplace for Lawyers & Individuals
A major section of small businesses cannot afford to hire a legal representative at higher prices. At the same time, thousands of qualified attorneys are deprived of work in this highly-competitive market. The lawyers looking forward to growing their services aren't able to do so because of geographical constraints. The modern legal services firms are also looking to grab different opportunities resulting due to technological advancement. They want to engage with potential clients and serve the existing ones in a better way.
So in order to fulfill the requirements of both the parties, creating an effective lawyer marketplace is a wise option. The entrepreneurs looking for a profitable startup can go ahead with this idea before it converts into an Uber taxi, OLA cab or Airbnb.
The experienced PWS developers can build a dynamic and rich-featured online marketplace for legal services. We can build a professional online marketplace equipped with technologies of future-generation.
We, at Planet Web Solution, has successfully developed various on-demand solutions including Practo Clone, Zomato Clone, FoodPanda Clone, Cleaning Service Software, School Management Software and many more.
We are sorry that this post was not useful for you!
Let us improve this post!
Tell us how we can improve this post?