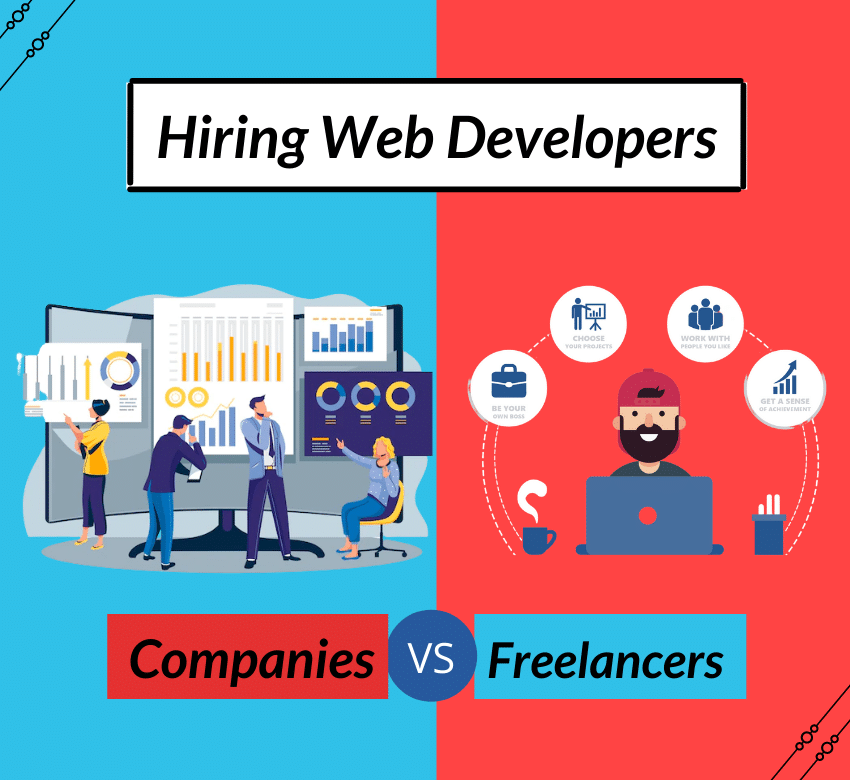 Hiring web developers is the first step for your website design or redesign project. Often! Having an in-house team is not considered substantial, especially if you are a small start-up.
So, the only two options left are freelance developers and web development agencies. A website project is a large undertaking as it involves big money and considerable time. Now, the question arises, "Which one is better for your business."
It's an important decision to make, and this blog will take you through the pros and cons of both options so that you can make the right choice.
Pros of Hiring a Freelancer
Cost-effective
Most start-ups prefer freelance developers because it's inexpensive to hire them. They have their rates, and you can select whichever deems fit your budget. It is suitable for new businesses as they require a basic web presence.
Project Involvement
Freelance developers are responsible for setting their rates and the timeline for the project. This enables them to devote more time and effort to your website. With agencies, it can be troublesome as they work on several timelines simultaneously. A freelancer can give you a more hands-on approach as they often lack a team and do the entire task independently.
Cons of hiring a freelancer
Answerability is Less
Going for a freelancer is mostly a bet as there are not many reviews about their work and the ones that have come at a high price. It seems like you are relying on someone whose skills and credibility cannot be verified. Also, there is less accountability as you become completely dependent on one individual.
Skillset is Limited
Building a website requires more than one skill set involving website strategy, UX design, web development, web copy, and project management. Finding a freelance developer equipped with all the skills is a challenging task, and this problem can be solved by hiring several freelancers specializing in different skills.
Pros of Hiring a Company
Higher Credibility
A web company has a higher reputation in the community than an individual developer. It becomes easier to verify the credibility of an agency by reading their reviews, testimonials of past clients, and viewing their awards. The chances of further support are higher when you work with a company with a bigger team.
Offer wide Experience
A web agency has a team of experts in separate fields. You don't have to worry about hiring multiple people as all your needs are taken care of here. Many of the developers working in the company have diverse experiences over the years, and therefore your project is in safe hands.
Cons of Hiring a Company
Expensive
When you hire a ecommerce web development agency, the cost automatically goes high for various reasons. First, web development is divided into different phases like the web strategy phase, the graphic designing phase, web copywriting, and finally, the web development phase. Second, they have to pay their team to apply additional charges. Third, the resources and software they use are more advanced. All of this makes it expensive.
Multiple Stakeholders
In the case of a freelance developer, there is only one point of contact, but with agencies, you are required to engage with multiple people. As the team is quite large, there is always a possibility of miscommunication and disconnect. However, most web companies have a project manager to manage all the communication and managerial tasks.
We are sorry that this post was not useful for you!
Let us improve this post!
Tell us how we can improve this post?