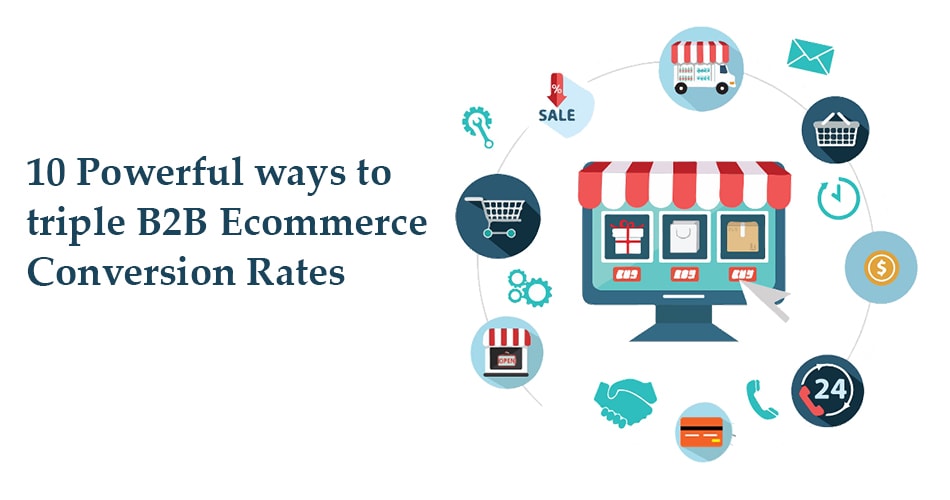 For e-commerce sites, the conversion rate is among the most crucial metrics for measuring performance. There are a lot of ways to improve the B2B Ecommerce Conversion Rates without needing to break the bank or revamping the entire site. As an internet shop proprietor, you will need to constantly boost your website's e-commerce conversion rate and sales. You can better your conversions by lighting a fire under the seats of your site visitors.
How to calculate the conversion rate?
Let's say your website's landing page asks people to sign up for the email list.
Out of 4,000 people who visited the landing page, 100 converted into leads.
With this available data, we can calculate the conversion rate by following this formula.
Conversions/Visitors*100
In this case, we have a conversion rate of 2.5 percent. The average e-commerce conversion rates vary from 1% to 2%.
Tactics to boost B2B e-commerce conversion rates
The strategies to engage your clients and keep them engaged are extremely important to the success of your B2B e-commerce venture.  To reach that 2% conversion rate, we've made a list of useful tactics that will help you to exploit venerable opportunities to double (even triple) your B2B e-commerce conversion rates. 
1. Fix your Analytics
The website's analytics provides genuine information/data about how people are using and responding to your site, and present the evident improvements that must be made in the Conversion rate Optimization (CRO) method. If you're already using tools like 'Google Analytics', you're in the right direction.
Critically examine the data based on which you can design the conversion rate optimization strategy. Correctly observe the pages where people spend a long time as well as pages people bounce quickly. With fundamental data about how your site at present performs, you can determine pages that aren't performing well and optimize them with sticky content or whatever the page demands. To discover the events prompting customers to buy, change your analytics by fragmenting traffic that tracks repeat buyers.
2. Work on your website's design
You might have tons of merchandise on your site, but if your site isn't properly structured or designed and customers aren't convenient to navigate their desired products, you'll barely see site visitors convert. The visually complex designs aren't globally accepted as compared to simple and easy to use web designs. That's why it is necessary to construct a site which focuses on designing with stunning theme and simple to comprehend. Simplifying the web design will hold the visitors on the content that actually matters.
3. Construct a framework to simply discover merchandise
One common reason behind a minimal conversion rate is that people don't like things that they see when they land on your website or, even worse, they can't locate the information and products that they require. Simplifying your principal navigation and keeping it minimal will not only enable customers to seek out your products quicker but it is going to also help in regards to search engines crawling your site.
4. Invest in Search Engine Optimization
One of the most important challenges is the non-reachability of the website to the customers to whom the products must be delivered. Regardless of what industry you're operating in, if you'd like to raise the conversion rate of your e-commerce website, then you must accurately convey your goods or solutions to the target audience. Implementing a smart SEO strategy will help you to improve your site's web presence, boost search engine ranking and organic search results.
5. Allow customers to contact you
Adding your contact information to your website so that it's clearly visible might seem to be a very simple change, but it's known to enhance conversion rates. Most of the B2B e-commerce giants that sell bulk orders or high-priced products contracts with their customers. To ensure the visitors' trust, allow them to contact you by prominently placing your contact details visible on the website. This can also be done by simply implementing a "Contact Us" tab or creating a contact form.
Unfortunately, not all customers will be pleased to register. Ensuring your onboarding procedure is less time consuming, place limited fields in the contact form.
6. Re-target the website visitors
You cannot merely assume people will come to your site and purchase products instantly. You have to spot people who only visited your site for the very first time and people who are regular visitors. Accordingly, send them an optimized message/ e-mails, persuading them to make a purchase.
While cart abandonment is one of the most baffling parts of the e-commerce business, various arrangements can improve this situation. A proven method to minimize cart abandonment rate is by implementing simple marketing software that sends web visitors abandoned checkout follow up email and track client commitment on the site.
If you are using Magento CMS to build your B2B e-commerce website, you don't need to worry about sending the cart abandonment emails and prospective clients' follow-up emails. Magento- the powerful Web Development platform comes with an inbuilt feature to perform this important activity. If you're able to improve conversions sufficient to recover even a portion of abandoning visitors, you are going to boost revenue from your website.
7. Identify your Competitors
You already know, you're not the only option in the marketplace. In order to recognize your specialty and make improvements, you have to first start look into what companies and businesses you're competing with. Then refine your intended market by identifying who has bought your service or product already. When you've identified your competitors, you need to analyze their sites so that you can begin outperforming them. Obviously, if a competitor does social really well, it means you have full scope to leverage the business opportunities derived via social media platforms. Running different advertising campaigns could work well. Also, utilize SEO tools to determine your competitors' keywords and try to gauge the quantity of organic traffic your rivals are receiving.
8. Invest in Omnichannel Commerce Solution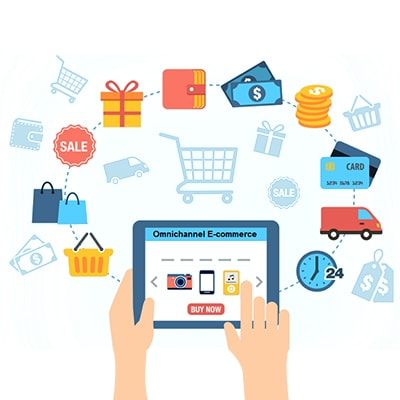 Improper order management, inventory management, invoicing, return and refund management could lead to order cancellation and straightaway move your customer to the competitors' hands.
Suppose a B2B customer placed an order and after two days he's receiving an order cancelation e-mail. Nothing could be worse than this. The canceled orders, negative product reviews drastically affect the conversion rate. Avoid this by integration a complete e-solution: Omnichannel Solution. The omnichannel solution helps the Admin to handle and manage the inventory listed across various platforms, synchronize with the centralized inventory, real-time updates and everything your online store needs.
If you are looking for System Integration Services, get in touch with us.
9. Make Ordering Easier
Whether B2B customers are placing an order for limited no. of units or bulk items, they always want an easy and quick checkout process.  Make sure your website offers different payment options to the clients and the ability to select multiple products with different quantities. More purchases shouldn't take more time.
10. Mobile Optimization
The increasing trend of mobile shopping is no more a hidden fact. Whether it's a B2C site or B2B site, a higher percentage of product research and orders are placed from Smartphones. Not following mobile landing page best practices are sometimes a costly risk in regards to mobile conversion rates.  Keeping this in mind, it is essential to build the B2B website on the right web development platform offering fully mobile responsive websites.
Other methods to improve e-commerce conversion rates of your B2B website are:
Improve your website's speed to offer a seamless user experience.
Navigation links on landing pages can increase user distraction. Removing navigation links can improve e-commerce conversion rates.
Publish High-quality product image and high definition videos demonstrating a product.
Also, provide detailed and accurate product description.
Use testimonials to build prospective customer's trust.
Use the "call-to-action" button smartly.
Arrange rotating banners if your website offers wide merchandise.
Present free delivery and offer discount
Conclusion
Learning ways to improve ecommerce conversion rates is not a difficult task. But to implement these tactics intelligently is not everyone's cup of tea. No one dimension suits all businesses. B2B conversion techniques are way different from B2C sales tricks. The enterprise executives possess a greater understanding than customers, so gaining their trust is essential to extend the revenue. Showcase your products distinctive features, use a dynamic pricing business model, Artificial Intelligence, and offer different packages to new clients and repeat clients.
Try the above points and see what changes they are bringing to the conversion rate of your B2B e-commerce site. And if you aren't ready to take this huge responsibility on your shoulders, you are welcome to partner our e-commerce experts. We assure you that our assistance will surely enhance your site's conversion rates and take your B2B business to the next level.
We are sorry that this post was not useful for you!
Let us improve this post!
Tell us how we can improve this post?